If you're in town this holiday weekend, we've got some great family fun options to celebration the 4th of July in Los Angeles! Whether you'd like to be on the coast, see a parade or hear an energetic concert performance- we're giving you the gift of time by highlighting our favorite upcoming events. We hope your family has a safe and memorable fourth!
KIDSPACE FREE FAMILY NIGHT-Tues. 7/2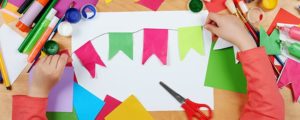 Before we highlight fireworks, we'd like to share with you that every 1st Tuesday of the month from 4-8pm is Kidspace's Free Family Night. Kidspace promotes family learning about the arts, while emphasizing diverse cultures. Activities between 4:30-7:30pm. Admission is free.
Location: 480 N. Arroyo Blvd.
Pasadena, CA 91103
DTLA GRAND PARK 4TH OF JULY BLOCK PARTY- Thurs. 7/4
200 North Grand Ave.
Los Angeles, CA 90012
Ride Share Drop Off Location: 111 North Los Angeles St.
Los Angeles, CA 90021
In the heart of downtown LA hosts an annual block party consisting of 40 dining vendors and multiple great performances. This year is featuring a ferris wheel! Get tickets at booth and rides end at 8:30pm. Also included is FIBA Basketball World Cup 2019 Trophy Tour. Haagen Dazs ice cream and Sweet Beat Mobile DJ Truck. Doors open at 3pm and fireworks are at 9pm. Free event. For map, parking, more details and to see full schedule here
The Backyard Stage- Grand Park's Event lawn next to the City Hall, between Broadway and Spring Street. Performances: 3-9pm
The Frontyard Stage- Grand Park's performance lawn between Grand Ave and Hill Street.
HOLLYWOOD BOWL JULY 4TH FIREWORKS SPECTACULAR WITH NILE RODGERS & CHIC- Thrs. 7/4
2301 N. Highland Ave.
Los Angeles, CA 90068
Get down to the beat with disco's greatest hitmakers! This is a three night celebration starting at 7:30pm. The concert starts with star-spangled American favorites by the orchestra. Then Nile Rodgers & CHIC get the crowd on their feet with "Le Freak" and "Good Times" plus some of Nile's hits as a producer- "I'm coming out", "Let's Dance" and "Get Lucky". Special guests DRUMline Live- who recently appeared in Beyounce's Homecoming. Enjoy this energy filled event! Tickets required.
Other ticket options: vivid seats
4TH OF JULY CELEBRATION AT THE ROSE BOWL STADIUM- Thrs 7/4
1001 Rose Bowl Dr.
Pasadena, CA 91103
This annual showcase of world-renown fireworks show is sure to remember! Here's the schedule of events:
12pm: Parking lot opens
2pm: Family Fun Zone in Area H opens
5pm: VIP field experience doors open
5:30pm: General admission doors open
7pm- Performances begin
7:30pm- SoCal Vocals Live Performance
8pm: TNT Motocross "All American Thrill Show"
8:30pm- Walt Disney Studio's DCoppella Live Lion King Performance
9pm- Biggest Fireworks Show in Southern California
PACIFIC PALISADES 4TH OF JULY PARADE & FIREWORKS SHOW- Thrs. 7/4
15120 Sunset Blvd.
Pacific Palisades, CA
PARADE: 2pm
Location: Sunset Blvd, between Via De La Paz & Drummond
Pacific Palisades, CA
FIREWORKS: 9pm
Location: Palisades Charter High School
15777 Bowdoin St.
Pacific Palisades, CA 90272
A wonderful fourth celebration for the whole family! Tickets required for entry to fireworks and access to food trucks. No seating for fireworks, please bring blankets to sit on in the baseball field. Tickets: eventbrite.com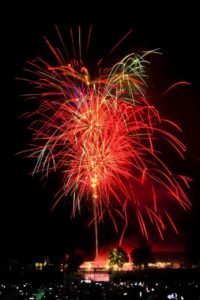 THE QUEEN MARY'S ALL-AMERICAN 4TH OF JULY- Thrs. 7/4
1126 Queens Hwy.
Long Beach, CA 90802
Come join this family-fun celebration aboard the grand Queen Mary ship that will be sure to be remembered always! Experience a red, white and blue tribute with carnival games, face painting, live entertainment, family games, arts & crafts, special historic tours and so much more! The decks will be filled with loads of fun for all ages.
The evening ends with a spectacular fireworks display.  Entire family is welcome!
Children under 3 are free. Tickets are required to board the ship. Best dressed competition!! Winners receive a 1-night stay aboard the Queen Mary ship and a Royal Brunch.
MORE FUN INCLUDES:
Paradise Cove
Malibu Colony
MARINA DEL REY 4TH OF JULY FIREWORKS SHOW- 7/4 9pm
Burton Chace Park: 13650 Mindanao Way, Marina Del Rey
SPRINKLES CUPCAKES- 4TH OF JULY BOX
Available now through July 7th at The Grove LA location:
189 The Grove Drive
Los Angeles, CA 90036