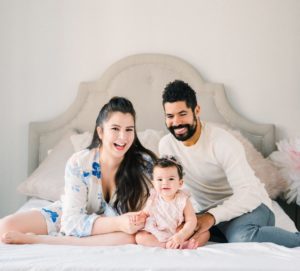 We are excited to introduce our first meet-a-mom Stacey Storey! She is a local Los Angeles mom and wife, who recently overcame a life challenge that turned into a beautiful outcome. Stacey is passionate about implementing compassion into her daily life and encourages others to do the same. Read more about her inspiring story here~
Where are you originally from?
I was born and raised in a small town in Alaska, Eagle River.
Where'd you go to school & what's your current profession?
I went to college in Texas at the University of Texas at Austin where I got my start in the entertainment industry. I am a filmmaker and I run my own Airbnb management company.
Where do you live today and how long have you lived in this area?
We live near the Miracle Mile/Hancock Park area. It is a little neighborhood on the outskirts of several known neighborhoods, lol. We've been here 4 years this month!
How many children do you have & what are their ages?
1 baby girl, Plum; 10 months old!
What are your favorite things about Los Angeles?
There's so much to see and do every day, as it is always evolving. We have really fallen in love with the neighborhood and our "go-to" spots like Yuko Kitchen, Ballet Bodies, The Thai Thing, Republique!
What's one thing people would be surprised to know about you?
I am half Thai and I make really delicious traditional Thai dishes.
Please tell us about your community involvement – a business venture, a local organization, a creative endeavor, or business – how do you rely on the women of West Los Angeles?
I organize weekly trash pickups of the streets, kind of a "Adopt Your Neighborhood" kind of thing. I hope more Angelenos fall in love with this city since it is a wonderfully dope home to so many of us!
As a family we are always looking for ways to give. Every Christmas we give toys and clothing to LA families in need. We helped build a school in Nepal through BuildOn. We love helping kids creativity come alive through Young Storytellers!
When I first moved to LA and living in West Hollywood (14 years ago! Wow!), I co-founded an all ladies' group for actors and directors that set goals every week and had inspirational talks about navigating the entertainment-business-waters. Years later, I produced and acted in a feature film with a majority female cast and crew, it was a very full circle moment for me.
What's your proudest accomplishment?
A few years back, I had a cancerous tumor on my right ovary. I ended up losing my right side fallopian tube and ovary from all the damage the tumor did to my body. I fully recovered and healed, physically and emotionally, and to make it even sweeter, I co-created a beautiful baby with just my one ovary. Go, left ovary!
What was your biggest failure?
When I was producing the film, I made a lot of mistakes and it was hard for me to admit them at the time; I felt as if I let so many people down. I learned so much about using my voice to state my creative opinion and about the humility behind being radically curious and open.
What's the one thing you're most passionate about?
One of my life's passions/missions is to elevate a space and all human interaction by tapping into warmth and compassion the best that I can. This drives me every day, especially as a mom.
Can you give us one pearl of wisdom, the one thing you wish more people knew?
What a wonderful question! I wish more people knew that empathy is one of the keys to life and can literally change the world by freeing our hearts of any hardness or judgement.
If you could encourage more people to take action in some way, what would it be?
Make a mindful decision every day to do something, however seemingly small, to spread love, kindness, and joy. Or meditate! It will 100% elevate your life.
 Last question – is there anyone special you'd like to thank for helping you through parenthood?
Adam, my hubs, shows up in the biggest way as a father since day one. Even as I breastfeed Plum, he is of-service and trying to assist. His love and support make me a better mom and person every day.
**You can find Stacey on Instagram~ @Staceystorey